Select Meeting Recaps


2022, March 9
Program: An Overview of Sand Carving Decoration on American Glass
Presented by Founders Member Amy Boches
| | |
| --- | --- |
| | Sand carving is a process where glass is removed from a vase or other form by blasting sand. This talk began with a little about the technique itself and then covered the beautiful use of sand carving glass by early 20th Century American glass companies and Mid Century decorators. |
2022, February 9
Program: Hobbs - Art Glass for the Middle Class
Presented by Bill & Ellen Morrison
| | |
| --- | --- |
| | The Morrison's provided an overview of the art glass production at Hobbs during the decade 1882-1892. This was a chronological survey using examples from their personal collection. They provided context for the pieces within the history of the Hobbs companies. |
2021, May 12
Program: "Emil Larson, The Glassblower's Glassblower"
Presented by Founders Member Thomas C. Haunton
| | |
| --- | --- |
| | Glass collector and historian Thomas C. Haunton returned to the Founders Chapter to share his expertise of 20th century American glass. He give a presentation entitled Emil Larson, The Glassblower's Glassblower, about the sixty-year career of this Dorflinger, Durand, and independent shop artisan who could make virtually anything in glass. |
2021, April 14
Program: Virginia B. Evans & the development of Imperial's Cathay Crystal
Presented by Founders Member Louis Lopilato
| | |
| --- | --- |
| | Louis presented an overview of the artist Virginia B. Evans turned designer of glassware, her introduction to the Imperial Glass Co., and the development of the Cathay Crystal line. |
2020, December 9
Program: Settings Standards - Decades of Glassmaking in New England
Presented by Jay Rogers
2020, November 11
Program: Lamps and Lighting
Presented by Founders Member Art Green
2020, October 14
Program: American Children's Glass
Presented by Founders Member Amy Boches
2020, March 11
AM Program: "Candlesticks"
Led by Member Jean Herbert of Founders Chapter
PM Program: "The Little Glass Factory That Could"
Presented by Diane Tobin, Author and 20+ year Meriden resident
The Meriden Flint Glass Company.
2019, December 10
Holiday Luncheon and Silent Auction: Our special meal to celebrate the holidays will be catered and we will hold our Silent Auction throughout the day.

PM Program: "Contemporary Glass Bead Making"
Presented by Kristina Logan.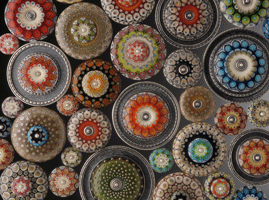 Kristina told her story of how she began making beeds, her inspration, and how she her style developed.
2019, November 13

FIeld Trip: Visit a Spectacular Private Collection in Cambridge, MA.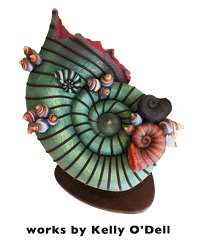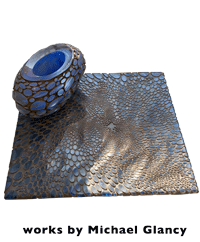 2019, October 2
AM Program: The morning topic was "Smalls" and members presented small items from their collections including salts, nut dished, paperweights, small compotes and whimseys.

PM Program: The afternoon program "Pairpoint Glass" was presented by Maria. Maria shared a spectacular number of Pairpoint glass pieces from her collection. The Pairpoint colors are very true and beautiful. Pairpoint started in Boston as a silver company making quadruple plate silver items. When they moved to New Bedford they paired with the Mount Washington Glass Company and made silver pieces to hold some of the glass. Eventually Pairpoint bought Mount Washington and continued to make the glass under the Pairpoint name. The company had many owners over the years and at one point from 1958 to 1970 the factory was moved to Spain. In the early 1970's it moved to Sagamore where it continues today. Much of the early paperwork and documentation is missing, possible because of some housecleaning by a previous owner. Presently the business is owned by Jeff and Gary Tulman and concentrates on making barware and doorknobs. Some of their pieces have the controlled bubble for which Pairpoint is famous. A lively discussion was held regarding Pairpoint cup plates and the collecting frenzy during the 1970's. They made more than 800 designs of these plates, mostly for commissions for groups or historic homes. Maria showed Plate #1, which is highly prized, and had a story about buying it at a flea market.